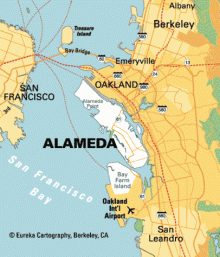 The City of Alameda is located seven miles east of San Francisco, less than a mile west of Oakland, CA in the beautiful San Francisco Bay. The island is served by international airports in Oakland, San Francisco and San Jose. It is also accessible from San Francisco via the Bay Bridge and from the east, north and south by major highways.
If you are coming to the city by water, Alameda is served by the Alameda Oakland Ferry Service (AOFS) and the Alameda/Harbor Bay Ferry Service (AHBFS).
Miles and Minutes to Alameda
Oakland International Airport -- just 6.7 miles away from downtown Alameda and less than 15 minutes by car from major business parks
San Francisco Airport -- less than 28 miles away and a comfortable commute
San Jose Airport -- within 35 miles and under an hour
Amtrak Station and the Capital Corridor Line -- less than 5 miles away and under 10 minutes
Bay Bridge Toll Plaza -- a convenient 7-mile trip that can be reached in less than 15 minutes.
Public Transportation
Click for more info on various public transportation options.